$245.00
The RANGER™ 3 is a go-to hydropack for fast and 1-3 hours racing with a slim-profile fit.
Carry your essentials in the removable tool pocket while training then just pop it off to drop the weight for racing. Its smart and its quick!
AWARD WINNING TECHNOLOGY
NDM™, No Dancing Monkey is our award winning, patented suspension harness technology that gives you the perfect fit, with zero bouncing on your back. The "edge" is the elastic 4-point straps that allow you to snug the pack really tight, without it affecting your breathing capacity or freedom of movement.
..
SPECIFICATIONS
3L cargo capacity
2,0L Elite™ hydration system Included
Weight: 425g *ex. bladder
PATENTED NDM™ harness technology
Quick-removable organizer compartment (wide opening)
Water resistant (Not waterproof) smartphone pocket
Twin port exit for tube from H2O-compartment
Tube port compatible with HHF kit
Multi size adjustable: M-XL (Approx. Chest 84-120cm)
Unisex fit
In stock
Email to a friend
Description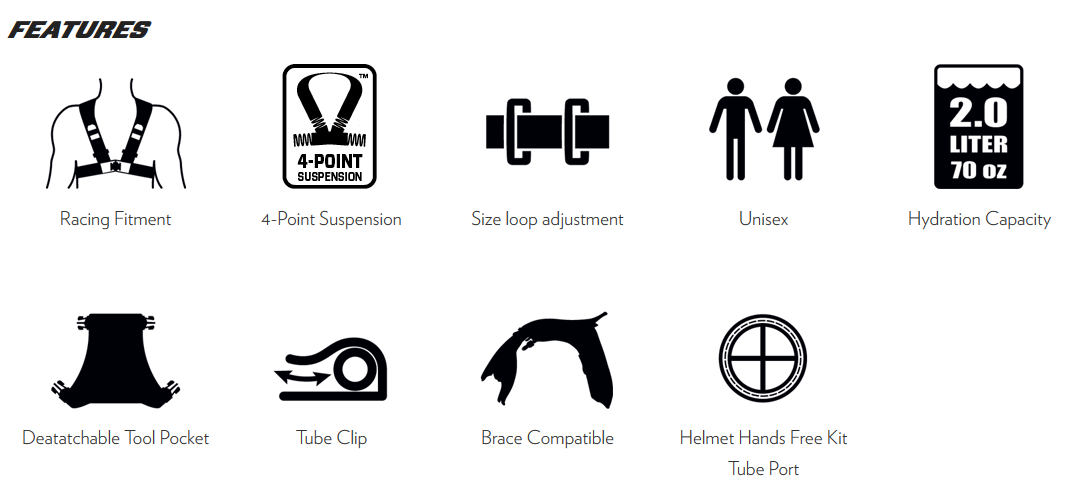 Why USWE?
USWE (pronounced 'you-swii') is a Sweden-based company that manufactures flexible, bounce-free, action backpacks with a secure and perfect fit. All of its hydro backpacks and other camel packs are made using the brand's patented harness design. USWE Backpacks are engineered to have a unique suspension and shape to fit snugly on the rider's body without restricting body movement or breathing capacity. These USWE Hydration Packs are perfect for adventurers and can be used for various sports activities, including motosports, cycling, running, trail running, skiing, and more.
BEHIND THE BRAND
Founded in 2007, USWE has always strived to give adventure seekers an action pack that can withstand the harshest conditions without the rider feeling restricted. As a group of avid adventurers, the USWE team grew up exploring the Swedish countryside on their bikes. The team rode through the most challenging terrain and went far out into the wilderness. They packed their gear, water, and food in standard backpacks, but these lacked the storage capacity they needed. The backpacks were also uncomfortable as they were made for walking, not riding.
The USWE team's passion for adventure (and frustration) led to the creation of the world-renowned USWE Hydration Backpacks. The development of USWE products has always involved the best athletes and weekend warriors so that the brand can provide nothing but the best for riders. USWE has always focused on its core philosophy – the pack has to be worn, not carried – so it focused on ensuring that the bags stay balanced and fixed on riders' backs. No matter if you're speeding through hills or trailing through the wilderness, USWE has got you covered.
WHY CHOOSE USWE HYDRATION BACKPACKS
All USWE Backpacks use the patented and award-winning NDM™ (No Dancing Monkey) harness technology. This innovative design ensures there's no bouncing on your back because the packs are made to fit you perfectly. The technology gives backpacks an elastic 4-point strap so they can snug the pack tightly without hindering your movement. The backpacks are specifically developed for action sports such as dirt bike, running, and mountain bike. These products are suited for both men and women.
USWE Hydration Backpacks are designed to give riders the best performance. These products all undergo mud crawling testing, and valuable insights and input from top athletes are also integrated. USWE fitted "race suspension" in its action packs. This harness is perfect for riders who want to stay light and fast. It is ideal for racers and passionate enthusiasts who wish to take their speed to the next level. USWE also offers "heavy-duty suspension" for big adventures. This harness is made with durable yet lightweight materials, so you can take it to the extreme without worrying about restrictions.
WHY YOU NEED USWE HYDRATION BACKPACKS
Staying hydrated during your ride is crucial, especially during the summer or when you're out into the unknown and exploring new trails. When you're on a ride, you are exposed to the heat of the sun and the drying wind. Sometimes you can't anticipate the humidity and heat level before heading out, and nothing is worse than being stuck on the road or the trails with no water source insight. Whether you want to brave the summer heat and drive your motorcycle,  or you're going on a multiple-day ride, hydration packs are essential. Instead of waiting for the next gas station to gulp down bottles of water because of dehydration, hydration packs allow you to have slow water intakes, so you never overdo your drinking. With a few sips every few minutes, you'll have an efficient and effective way of hydrating your whole body.